The Nanton Lancaster Society Air Museum is the only facility in Canada whose primary goal is to honour those who served with Bomber Command.
GOALS
to honour all those associated with Bomber Command during World War II.
to commemorate the activities of the British Commonwealth Air Training Plan in Alberta.
to work towards the complete restoration of the Ian Bazalgette Memorial Lancaster to its wartime configuration.
to collect, restore, and exhibit aircraft and artifacts related to Bomber Command and the BCATP.
to inform the public as to the contributions and sacrifices
made by the men and women of Bomber Command and the BCATP.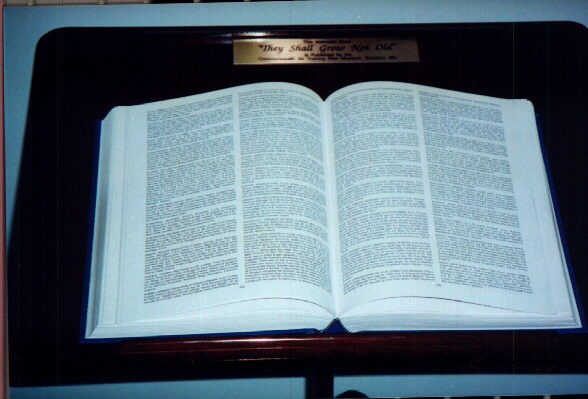 S

ince the Society was incorporated in 1986, funding has been arranged for the construction and expansion of what is now a 26,000 square foot museum building which provides permanent shelter for the Nanton Lancaster Bomber and our other aircraft, artifacts, library, archives, and displays. As well, the building includes a 2000 square foot restoration shop and a 600 square foot parts storage area. Aircraft, vehicles, instrumentation, artifacts, tools, books, manuals, photographs, aviation art, and other display materials have been acquired or donated by numerous supporters.
T
his has been accomplished through the efforts of hundreds of volunteers and donations made by thousands of individuals and dozens of corporations. As well, support has been received from the Government of Canada, the Government of Alberta, and the Town of Nanton. However it is important to note that only 5% of the building's cost was paid for with tax dollars. None of the cost of acquiring artifacts or developing displays has been taxpayer supported.
Although much has been accomplished, development and expansion of our museum, displays, and programs continues.
---
Artifact AcquisitionThe Society is constantly attempting to expand its collection of aircraft and artifacts, as well as its library and archival material. Donations and advice regarding additions to our museum are most appreciated.
Artifact RestorationOur restoration shop is completely equipped with the tools and equipment required. We are working towards the restoration of all our aircraft and artifacts to their wartime configuration.
Public Education and InvolvementMany thousands of visitors tour the museum each year and are informed of the sacrifices made by so many in Bomber Command and the BCATP. The dedication of the Lancaster to S/L Ian Bazalgette VC DFC, the only Albertan to be awarded the Victoria Cross during World War II, brings to the attention of visitors the important roles played by Alberta and Canada.
Special consideration is made for veterans, school, and other groups which wish to visit the museum.
Development of New DisplaysThe Society is constantly striving to enhance the quality of our existing displays as well as develop new ones in order to do a better job of honouring those involved in Bomber Command and the BCATP.
NewlsetterA newsletter is published by the Society twice per year. This is delivered to our over 1000 members in all provinces of Canada, many of the United States, and several other countries.
Travelling DisplayThe Society attends airshows and other events during the year with a display designed to promote and advertise our museum.