Nanton Lancaster Society
Building Expansion Project – Recent Developments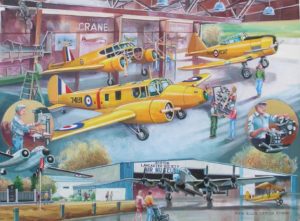 Phasing
Phase I of the expansion was completed in 2007. A new 14,400 square foot structure was erected over the existing restoration shop and storage area and a 40'x70′ mezzanine was included. This is being used for storage purposes. Phase I was a "bare-bones" building. The support of the Government of Alberta through the Alberta Lottery Fund [albertalotteryfund.ca] made it possible for the museum to complete phase I of a major expansion project during 2007.
Phase II of the expansion was completed in 2008. It included the installation of a heating system for both the expansion and the existing hangar, the completion of new restoration shop areas (both metal/engine and wood working shops), an expansion of the kitchen/volunteer lounge, and a "mulit-purpose" room that is being used for a multi-media theatre, large meetings, school groups, and other functions.
Phase III will see the installation of a sprinkler system for the entire building and the construction of a large mezzanine for displays and aircraft viewing. Following this our previous shop area will be removed to allow public access between the expansion area and the original hangar area. As well, our "small artifact" area will be enlarged and additional washroom facilities be made available.
We are currently seeking funding for Phase III from private, corporate, and government sources.